You're Invited to a Celebration
Y'all, it's here, it's here, it's here! My surprise is here. I might look like this today!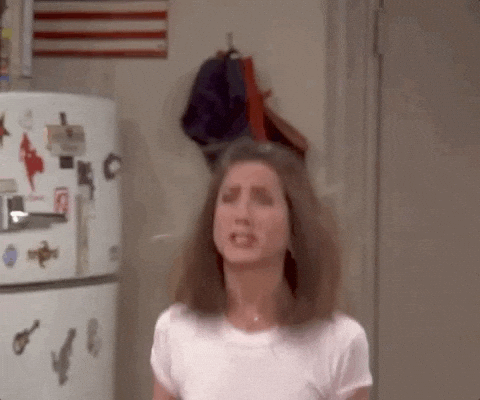 Keep reading for highlights of the SURPRISE and a GIVEAWAY chance. Five years ago this April, I made the incredibly nerve-wracking decision to hit "publish" on my debut novel, MY LIFE AS A COUNTRY ALBUM. Some of you have heard my story of how the book came to be―about how Taylor Swift songs brought Cam's life into full, living, technicolor for me. But what some of you don't know is that when I hit "publish," I had NO IDEA what I was doing. I'd done SOME research on how to publish a book but not nearly enough. The novel itself had errors, and at the time I didn't even know what a blogger release tour was…I was pretty darn naïve. But then something magical happened…people―like some of YOU―found Cam's story anyway! Even better, you loved the story, forgave the mistakes, and asked me for more…MORE…You have no idea what the meant to me. And now, this April I'll be putting my 15th book out in the world. So today, I'm releasing a special 5th Anniversary Edition of MY LIFE AS A COUNTRY ALBUM as a way of celebrating my journey and the special people Cam has brought into my life. Plus, this book, the way it looks now, it's exactly how I wished I'd published it to begin with! This limited-time edition has scrapbook-like images at the beginning of each chapter, and I've included the novella, This Life with Cam, right inside it that shares the hero's perspective. This novella was previously only available in the box set of the series, and once the special edition goes away, that's the only other place you'll have access to it.
OKAY, ENOUGH about all that backstory gobbly-gook. JUST LOOOOOOKKKK AT IT!!!!!
It's so prettttty, right?! I'm so grateful to Megan at Designed with Grace for making this cover for me. She's a literal miracle worker!! The paperback and hardback editions are so beautiful they make me want to cry. Like I held the proof to my chest with a big, goofy grin on my face and tears pooling in my eyes when I got it. I've included some images of the interior here. I wish I'd been able to do the books in color, but the print cost alone was atrocious, and so the list price on Amazon would have been ridonkulas. So, I'll leave the color images for the "someday, maybe" pile, and still give you this gorgeous grayscale interior.
If you liked the interior of Charming and the Cherry Blossom, I feel like this book is even more special. I know it seems weird to be saying, here's a story you've already read from me. But I hope some of you will like this version as much as I do. That you'll help me celebrate by taking a look at it and cheering me along as I celebrate five years in this beautiful book world.
Country Album's official birthday is April 17th, so I've got a pre-order up for signed paperbacks and hardbacks that I'm hoping will get the books to you before the actual book birthday. If you want one of these limited-time, special edition copies, you can buy iton Amazon OR order it with me:
Inside the 5th Anniversary edition you'll find:
The original story

The novella, THIS LIFE WITH CAM (hero's POV)

Cam's scrapbook images at the start of each chapter

A gorgeously designed interior
This special edition gives you all the epic, heartbreakingly beautiful words you first loved in the story with an alternative cover and pictures that bring the story to life. If you haven't read it before, here's what to expect: 🏈 Boy Next Door 🌸 Coming of Age 💚 First Love 🏡 Small Town 💔 Heart Crushing HEA 💕 Second Chance
Teaser: I've always been yours…I was yours as we grew up sharing a treehouse, a yard, and the lake. I was yours through your football stardom and my dive competitions. And, I was most especially yours when you kissed me and told me you weren't letting me go. Except you did. In the most painful way possible. And now I'm wondering how to turn my life from a country love song without a happy ending into one that does…
Get it for a limited time: https://geni.us/MLAACAanniv
Over the last three weeks in my newsletter, I shared three songs that COULD HAVE been included in My Life as a Country Album along with a little letter snippet to go along with the song (I had the to/from marked out on the letters to be sneaky). So here are the letters again, but with the names added. PLUS, I've included a link to the first two chapters of the book here for those of you who haven't read the story yet.
I Almost Do (Taylor's Version)
Dear Jake, I want to call, but I can't. I can't because if I say hello and you say goodbye, I'll break. But that doesn't mean I don't spend every second of every single day thinking about you. I don't know if I hate you or love you anymore because, honestly, it could go either way. It's funny how both those emotions are full of passion, so I guess that's all I can say I know for sure that I feel for you―passion. When I'm feeling that way―so strongly it might tear me apart―I don't know if I can go on if I think those brief summer moments are all we'll ever be able to call ours. So, when I don't pick up your call…maybe you'll understand why. Always yours, Cam
Tell Me Why (Taylor's Version)
Dear Seth, Your words last night were cruel. I wonder almost every day what wounded you so deeply that the only way you can show you care is by striking out at others. At people who actually like you. I'm not sure I can take the apology I know will spout from your lips today, especially when I know the bitterness will just be back again tonight when you've had one too many beers, and you feel challenged by one of my friends. I see the tunnel drawing to a close. I see our end. Do you? Frustrated and confused, Cam
Untouchable (Taylor's Version)
Dear Cam, I left you to fly to L.A. today, and all I could think about was how quickly I could finish my business in order to get back to you. I can feel your hesitation, and while I know why you have these feelings, I'm so far gone already that I need to smash your doubts and fears to bits. I want to prove to you that you can love again. Prove to you that you're whole just as you are. I want you to be so entranced with the US that's dangling in front of you that you choose to leave what you lost in your past. Sincerely and forever, Blake © LJ Evans 2022, unedited, subject to change.
WANT A CHANCE AT A SIGNED HARDBACK OF THE SPECIAL EDITION
OF MY LIFE AS COUNTRY ALBUM?
It's really simple. Share the anniversary, special-edition release on ANY social media platform, and then send me an email (lj @ ljevansbooks dot com) with a link to the post, and you'll be entered in for a chance at a copy. Open U.S. and internationally.
Okay, I'm off to squeeze the beautiful copy of Cam's book again and maybe cry with joy a little bit! I hope you have a BEAUTIFUL day!
HAPPY READING & STAY SAFE OUT THERE!
LJ LJ Evans Books – achingly heartfelt slow-burns with deep, relatable characters, true friends, real "family", and dreams remade on this wild ride called life. ♬ "𝓌𝒽𝑒𝓇𝑒 𝓂𝓊𝓈𝒾𝒸 & 𝓈𝓉𝑜𝓇𝒾𝑒𝓈 𝒸𝑜𝓁𝓁𝒾𝒹𝑒" ♬ LJ's Website
LJ's Newsletter
LJ's Music & Stories Facebook Group
LJ Evans Author Page on Facebook